Malls:
Nuciti
Bay City Mall
SM Batangas City
Caedo Commercial Center
Sm HyperMarket
Hospitals:
St. Patrick's Hospital
Batangas Regional Hospital
Terminal Stations:
Batangas City Grand Terminal
Batangas Pier
Schools:
Batangas State University- Alangilan Campus
Batangas State University- Main Campus
University of Batangas, Lyceum of the Philippines- Batangas
ST. Bridget College, St. James Vocational School, TESDA
Marketplaces:
Lumang Palengke
Bagong Palengke
Major Roads:
Star Tollway
Diversion Road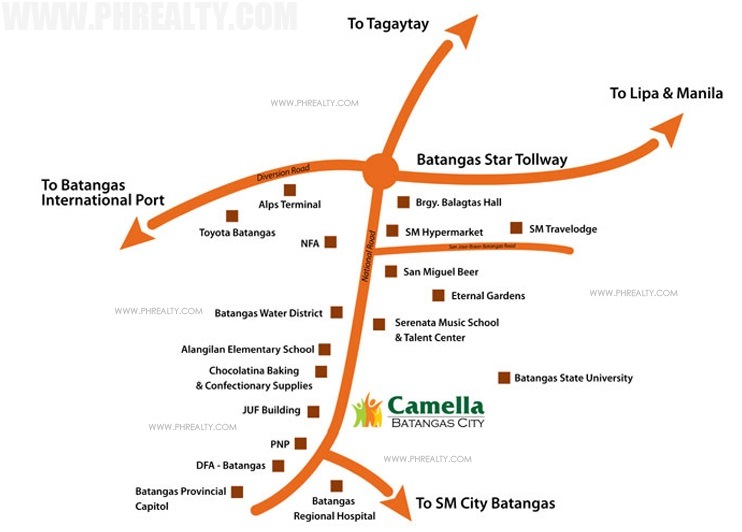 Camella Batangas City is located at Alangilan, Batangas City.
Camella Batangas City is located just 1.6 kilometers from the Star Tollway Exit, right on the National Highway. It's only two kilometers away from Batangas City downtown. This places this project at a critical location close to all necessary outlets. Though all the city conveniences are at a stone's through away distance, it's still distant from city's noise and stress.
Some of the convenient nearby essential outlets of Camella Batangas are below:
Easy Access To Public Transports – Since Camella Batangas is adjacent to the national highway, it provides easy access to public transportation system. The services of buses, cabs, and jeeps are available right at the doorstep of the community. If you don't own any personal vehicle you can use these public transport facilities as they are well within your reach. City Terminal and Pier port are also few kilometers away from the property. You just have to step out of the community gate and utilize these services without any extra travel.

Nearby Markets – The super market chain 'SM Hypermarket' is located just one kilometer away from the project. This would provide easy access to all the daily essential commodities. Moreover, there are many local market areas like Lumang and Bagong Palengke close by, which also have a good variety of goods that your family might need.

Healthcare Centers – An emergency can arise anytime. Keeping this in mind Camella Batangas City is built extremely close to St. Patrick's Hospital and Batangas Regional Hospital. Doctors are now just a few minutes away and you can contact them easily for any health related issue.

A Nearby Church – Having a Church nearby is a good option to visit for your prayers. Euphrasia and Basilica churches are close by so that you won't have to travel far for offering your prayers to the Almighty. Even Sunday prayer sessions would be easy to attend at these churches.

Nearby Located High Schools and University – Education is extremely important in building one's career and this was one of the important factors in deciding the project's location. Both the Main and Alangilan Campus of Batangas State University is just around the corner. Even St James vocational School and St. Bridge College is just a walking distance away. Proximity to these schools will save significant travel time for kids and they can focus more on studies.

Nearby Malls and Parks – Just a drive of around 3 kilometers can lead you to malls like Nuciti, Bay City Mall, and Caedo Commercial Center. On your day off from work, you can visit these malls and spend some quality time with your family. Also, the two man-made parks Plaza Mabini and Plaza Laurel are within the proximity of this project. A picnic at these parks is always a good option for a family to bond.

Nearby Establishments – A large number of businesses and commercial establishments are located near to the Camella Batangas City. Moreover, new ventures are constantly coming up due to the presence of a national highway. With time this will increase the value of the property that you own, which also makes it a good investment option if you are looking to sell the property eventually.